MV Deep Andaman Queen is a brand spanking new liveaboard vessel that was built in 2012.
Deep Andaman Queen he is fitted with air conditioned cabins with private bathroom. Andaman Queen has a variety of cabin configurations to suit different budgets.
21 Divers
En-suite cabins
Nitrox
Large Sun Deck & huge Dive Deck
Cabins Schedule Itineraries Gallery Enquire / Book
Liveaboard Prices in Thai Baht
Similan Islands, Koh Bon, Koh Tachai and Richelieu Rock
Duration: 4 Days / 4 Nights – 14 Dives
Master Double Bed Cabin – 46,000 / diver
Deluxe Twin-/Double Cabin – 40,000 / diver
Twin Bunk (Lower Deck)  – 35,000 / diver
Triple Share (Lower Deck) – 32,000 / diver
Quad Share (Lower Deck) – 30,000 / diver
Similan Islands & Burma Mergui Archipelago (Myanmar)
Duration: 8 Days / 7 Nights – 22 Dives
Master Double Bed Cabin – 87,500 / diver
Deluxe Twin-/Double Cabin – 77,000 / diver
Twin Bunk (Lower Deck)  – 68,000 / diver
Triple Share (Lower Deck) – 63,000 / diver
Quad Share (Lower Deck) – 59,500 / diver
** 5 days 5 nights Christmas trip:
41,000 baht/diver in quad cabin
44,000 baht/diver in triple cabin
48,000 baht/diver in standard twin cabin
55,000 baht/diver in VIP twin/double cabin
63,000 baht/diver master cabin
10% Discount For Non Diving Guests/Snorkelers!
What's Included
Full board Accommodation
All meals & Most drinks
Divemaster services, tanks, weights, and belts.
Hotel transfers from Phuket and Khao Lak are also included in the price as long as its part of Deep Andamans scheduled departure times.
Pick up available at the Phuket airport for free on the day of departure 17:00.
What Isn't
National Park Entry fee and diver's fee's
Scuba Diving Equipment
Dive insurance
Soft Drinks
Alcoholic drinks
Nitrox fills
MV Deep Andaman Queen Liveaboard Info
Cabins
The Master cabin has the best panoramic ocean view of any Liveaboard's that sail the Similans can offer.  There are 3 Deluxe double bed cabins & 2 Deluxe twin bed cabins on the main deck. All Deluxe cabins have private bathrooms and large windows. On the lower deck there are 3 standard cabins, all with private facilities and porthole windows. There is a twin bunk cabin, a triple share cabin and a quad share cabin.
Dive Deck
MV Deep Andaman Queen has a large dive platform and is the pride and joy of our boat. It consists of a very wide and spacious kitting-up area on two levels, a separate entry/exit platform, Two exit ladders with Two fresh water showers to rinse yourself or your equipment after diving. There are also two very large containers with fresh water for rinsing cameras, dive computers and torches and etc.
Colti Sub Nitrox membrane on board – unlimited Nitrox is available for every diver and if you would like to do the Nitrox course then we can help with that too.
Liveaboard Facilities
Air-Con: Yes in all rooms
Sundeck: Sun Deck with Loungers, Shaded Sun Deck
Deck Areas: Sun Deck, Shaded Sun Deck, Shaded Dining Area
Food: Thai, Western, Vegetarian
Housekeeping: Daily Cabin Clean
Towels: 2 per trip
Voltage: 220V
Camera Facilities: Rinse Bucket
Entertainment: T.V., DVD-MP3
Masseuse: Yes
Deep Andaman Sample Itinerary
The Similan's & Surin Islands Liveaboard cruise
14 Dives – 4 Days / 4 Nights 
Day one
Pick-up at your Hotel, Phuket Airport, Dive shop & Khao Lak
(Pick-up times are according to the location)
Arrival at MV Deep Andaman Queen Liveaboard, (Taplamu pier)
Welcome Drinks – Cabin Allocation – Staff Introduction
Boat Briefing – Welcome Dinner
No diving
Day Two
wake up 7:00 am – 7:30 am General Diving Rules / Safety Briefing
07:30 am – 07:00 pm
Three day dives around the Similan Island
Visit Island No. 4 / Enjoy paradise with a beautiful white sandy beach.
07:00 pm – 07:45 pm Night dive at Honeymoon Bay (Island No. 4)
Day Three
7:00 am – 01:00 pm
Two dives around the Similan Islands
Visit Island No. 8 / Enjoy paradise with nature & a white sandy beach.
Two dives around Koh Bon & Koh Tachai Islands
Day Four
7:00 am – 9:00 am early morning dive around Koh Tachai Island
10:30 am – 06:30 pm Three dives around Richelieu Rock & Surin Island
Day Five
07:00 am – 08:00 am one early morning dive around Koh Bon Island
11:00 am – 12:00 am If possible, one dive at Boon Sung Wreck
12:30 pm – 02:30 pm Leave the dive site for Taplamu Pier (Lunch, Debriefing).
03:00 pm – 03:30 pm Disembarkation at Taplamu Pier.
04:00 pm – 06:30 pm Transfer back to your Hotel in Phuket, Air Airport & Khao Lak Area.
MV Deep Andaman Queen Schedule 2018 – 2019
| Departure (dd/mm/yy) | Return (dd/mm/yy) | Duration | Dive Destination | Port of Dep./Arr. |
| --- | --- | --- | --- | --- |
| 15 Oct 2018 | 19 Oct 2018 | 4D/4N | Similan, Koh Bon, Koh Tachai & Richelieu Rock | Khao Lak / Khao Lak |
| 19 Oct 2018 | 23 Oct 2018 | 4D/4N | Similan, Koh Bon, Koh Tachai & Richelieu Rock | Khao Lak / Khao Lak |
| 24 Oct 2018 | 28 Oct 2018 | 4D/4N | Similan, Koh Bon, Koh Tachai & Richelieu Rock | Khao Lak / Khao Lak |
| 29 Oct 2018 | 5 Nov 2018 | 8D/7N | Thailand & Myanmar (Burma) | Khao Lak / Khao Lak |
| 6 Nov 2018 | 10 Nov 2018 | 4D/4N | Similan, Koh Bon, Koh Tachai & Richelieu Rock | Khao Lak / Khao Lak |
| 11 Nov 2018 | 15 Nov 2018 | 4D/4N | Similan, Koh Bon, Koh Tachai & Richelieu Rock | Khao Lak / Khao Lak |
| 16 Nov 2018 | 20 Nov 2018 | 4D/4N | Similan, Koh Bon, Koh Tachai & Richelieu Rock | Khao Lak / Khao Lak |
| 21 Nov 2018 | 25 Nov 2018 | 4D/4N | Similan, Koh Bon, Koh Tachai & Richelieu Rock | Khao Lak / Khao Lak |
| 26 Nov 2018 | 3 Dec 2018 | 8D/7N | Thailand & Myanmar (Burma) | Khao Lak / Khao Lak |
| 4 Dec 2018 | 8 Dec 2018 | 4D/4N | Similan, Koh Bon, Koh Tachai & Richelieu Rock | Khao Lak / Khao Lak |
| 9 Dec 2018 | 13 Dec 2018 | 4D/4N | Similan, Koh Bon, Koh Tachai & Richelieu Rock | Khao Lak / Khao Lak |
| 14 Dec 2018 | 18 Dec 2018 | 4D/4N | Similan, Koh Bon, Koh Tachai & Richelieu Rock | Khao Lak / Khao Lak |
| 24 Dec 2018 | 29 Dec 2018 | 5D/5N | Similan, Koh Bon, Koh Tachai, Richelieu Rock** | Khao Lak / Khao Lak |
| 30 Dec 2018 | 4 Jan 2019 | 4D/4N | Similan, Koh Bon, Koh Tachai, Richelieu Rock** | Khao Lak / Khao Lak |
| 4 Jan 2019 | 11 Jan 2019 | 8D/7N Full | Thailand & Myanmar (Burma) | Khao Lak / Khao Lak |
| 13 Jan 2019 | 17 Jan 2019 | 4D/4N | Similan, Koh Bon, Koh Tachai & Richelieu Rock | Khao Lak / Khao Lak |
| 18 Jan 2019 | 22 Jan 2019 | 4D/4N | Similan, Koh Bon, Koh Tachai & Richelieu Rock | Khao Lak / Khao Lak |
| 23 Jan 2019 | 27 Jan 2019 | 4D/4N | Similan, Koh Bon, Koh Tachai & Richelieu Rock | Khao Lak / Khao Lak |
| 28 Jan 2019 | 1 Feb 2019 | 4D/4N | Similan, Koh Bon, Koh Tachai & Richelieu Rock | Khao Lak / Khao Lak |
| 2 Feb 2019 | 9 Feb 2019 | 8D/7N | Thailand & Myanmar (Burma) | Khao Lak / Khao Lak |
| 10 Feb 2019 | 14 Feb 2019 | 4D/4N | Similan, Koh Bon, Koh Tachai & Richelieu Rock | Khao Lak / Khao Lak |
| 15 Feb 2019 | 19 Feb 2019 | 4D/4N | Similan, Koh Bon, Koh Tachai & Richelieu Rock | Khao Lak / Khao Lak |
| 20 Feb 2019 | 24 Feb 2019 | 4D/4N | Similan, Koh Bon, Koh Tachai & Richelieu Rock | Khao Lak / Khao Lak |
| 25 Feb 2019 | 1 Mar 2019 | 4D/4N | Similan, Koh Bon, Koh Tachai & Richelieu Rock | Khao Lak / Khao Lak |
| 2 Mar 2019 | 9 Mar 2019 | 8D/7N | Thailand & Myanmar (Burma) | Khao Lak / Khao Lak |
| 10 Mar 2019 | 14 Mar 2019 | 4D/4N | Similan, Koh Bon, Koh Tachai & Richelieu Rock | Khao Lak / Khao Lak |
| 15 Mar 2019 | 19 Mar 2019 | 4D/4N | Similan, Koh Bon, Koh Tachai & Richelieu Rock | Khao Lak / Khao Lak |
| 20 Mar 2019 | 24 Mar 2019 | 4D/4N | Similan, Koh Bon, Koh Tachai & Richelieu Rock | Khao Lak / Khao Lak |
| 25 Mar 2019 | 29 Mar 2019 | 4D/4N | Similan, Koh Bon, Koh Tachai & Richelieu Rock | Khao Lak / Khao Lak |
| 30 Mar 2019 | 3 Apr 2019 | 4D/4N | Similan, Koh Bon, Koh Tachai & Richelieu Rock | Khao Lak / Khao Lak |
| 4 Apr 2019 | 11 Apr 2019 | 8D/7N | Thailand & Myanmar (Burma) | Khao Lak / Khao Lak |
| 12 Apr 2019 | 16 Apr 2019 | 4D/4N | Similan, Koh Bon, Koh Tachai & Richelieu Rock | Khao Lak / Khao Lak |
| 17 Apr 2019 | 21 Apr 2019 | 4D/4N | Similan, Koh Bon, Koh Tachai & Richelieu Rock | Khao Lak / Khao Lak |
| 21 Apr 2019 | 25 Apr 2019 | 4D/4N | Similan, Koh Bon, Koh Tachai & Richelieu Rock | Khao Lak / Khao Lak |
| 26 Apr 2019 | 30 Apr 2019 | 4D/4N | Similan, Koh Bon, Koh Tachai & Richelieu Rock | Khao Lak / Khao Lak |
| 1 May 2019 | 8 May 2019 | 8D/7N | Thailand & Myanmar (Burma) | Khao Lak / Khao Lak |
| 9 May 2019 | 13 May 2019 | 4D/4N | Similan, Koh Bon, Koh Tachai & Richelieu Rock | Khao Lak / Khao Lak |
| 13 May 2019 | 17 May 2019 | 4D/4N | Similan, Koh Bon, Koh Tachai & Richelieu Rock | Khao Lak / Khao Lak |
** 5 days 5 nights Christmas trip:
41,000 baht/diver in quad cabin
44,000 baht/diver in triple cabin
48,000 baht/diver in standard twin cabin
55,000 baht/diver in VIP twin/double cabin
63,000 baht/diver master cabin
MV Deep Andaman Queen Image Gallery
Liveaboard Specifications & Crew
Crew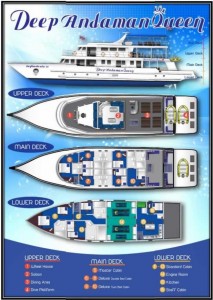 The crew is highly experience with many years running liveaboard's in Phuket and the Similan's. There are also one Cruise Director and Four professional dive instructors making sure that you enjoy every moment of your trip with us
Specs
Length 28 m (92 ft)
Beam 7 m (17 ft)
Draft 2.5 m (8 ft)
Two Hino Engines 2 X 510 hp
Two Hino generators each with 50 Kw (220 V+12 V)
Two Bauer mariner compressors 2 X 190 plum Enriched Air (Nitrox) available
All cabins complete with 220 volt of Electricity 24 hours a day
Air-conditioning system (Hino)
Water capacity 20000 liters
Fuel capacity 15000 liters
Guest capacity 21 pax
1 Master cabin, 5 Deluxe cabins
1 Standard Quad cabin, 1 Standard Triple cabin, 1 Standard Twin cabin
Cruising Speed 9.5 knots
Max. Speed 12 knots